IDC SpA awarded as Mimecast Partner of the Year 2018 in the Middle-East and Gulf region
IDC SpA is proud to receive the Mimecast Partner of the Year 2018 award for the Middle-East and Gulf area.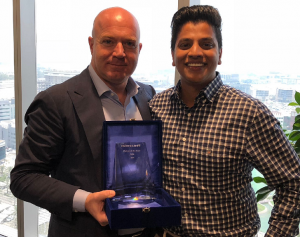 IDC has demonstrated an exceptional commitment to Mimecast partnership during the last 8 years and has grown to become the number one partner and the only Mimecast Service Provider (MSP) in the region.

Today, with a user base of over 110000 users from the most prestigious customers in this part of the world and a strong team capable of supporting our customers both technically and commercially, IDC aims at achieving even greater results in the coming years both in Middle East and in Italy.

In his own words, Valerio Capodacqua, Global IDC SpA CTO, said: "It is an important accomplishment and great recognition for the amazing job we performed during the last years and it is a great honor to receive this award and share it with my fantastic team that made it possible".

Mimecast Limited (NASDAQ: MIME), founded in 2003, is a leading archiving, security and business continuity company and it has been in the Leaders Quadrant of the 2017 Gartner Magic Quadrant for Enterprise Information Archiving for the third year in a row.
Mimecast mission is to secure company e-mail architecture and the data contained in it.
Mimecast provides its services to around 30,000 customers worldwide.